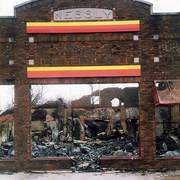 The major fire on Main Street in Mulvane, KS, was on January 28, 1999 at 10 pm.
The fire started in a plastic shop. It then spread south into a machine shop and north into our Winery Shop. Being feed by an odd wind out of the Northeast, the fire then spread into Rowan's Flower shop, a two story building directly to the west.
We decided then to move all operations to our Vineyard and Main Building where we've been since Black Friday of 1999.